Awards
Accolades for our
performance and
approach.
Awards
We are proud to be acknowledged for the uniqueness of our litigation model in delivering better experiences and effective outcomes for our clients, and for our staff to be recognised for a continued dedication to excellence.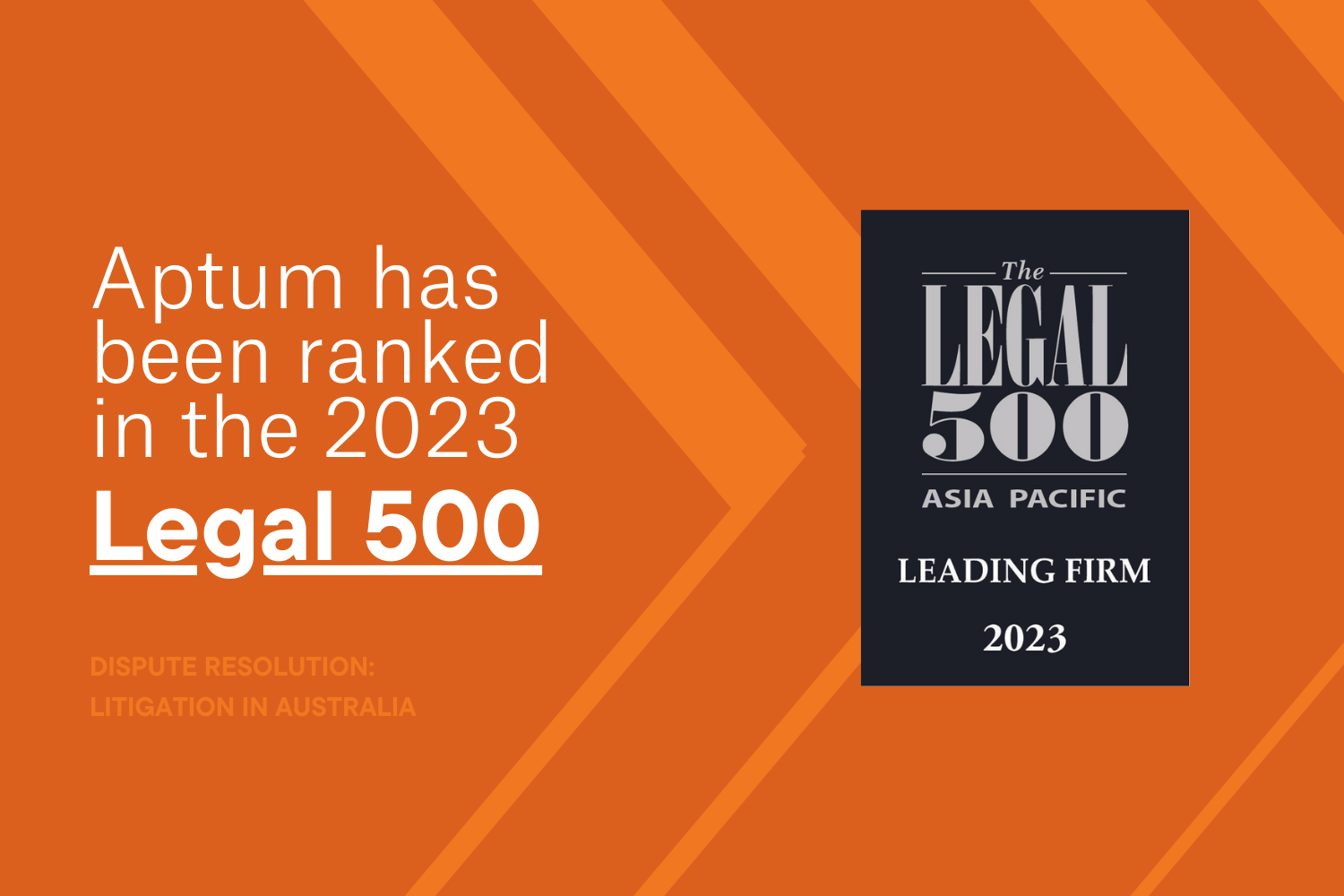 Article
Aptum Ranked in 2023 Edition of World's Leading Legal Directory
Aptum has been ranked amongst the leading law firms in Australia for Dispute Resolution: Litigation in the 2023 edition of the Legal 500 Asia Pacific.
READ MORE
"Cost effective professional advice with an efficient cohesive team that take pride in their work and are client focused."
- Event Director, Property Dispute

9.3 Overall Experience
"I was kept informed every step of the way with quick, reliable advice. I felt that they cared about getting me a good outcome."
- Director, Partnership Dissolution Dispute

10 Overall Experience
"From the moment I engaged Aptum they were incredibly professional, thoughtful, and very sensitive to my situation."
- Senior Executive, Employment Dispute

10 Overall Experience
"Aptum Legal was able to grasp the complexities of [my industry], which previous lawyers were unable to understand. My personal preference is for Aptum Legal to open in Queensland."
- Individual, Employment Dispute

10 Overall Experience
"I can't recommend Nigel Evans & his team highly enough. I found him to be an excellent communicator, intelligent, caring & importantly a great listener. His advice & ability to negotiate a quick resolution for me were first class."
- Andrew Sakeson, Property Dispute

10 Overall Experience
"Nigel made the process as least stressful as he was able to and the outcome confirms that his advice took me on the best path to a strong resolution."
- Anonymous

10 Overall Experience
"The Aptum Team are professional and courteous and provide a level of service at every level. I will definitely use them again."
- Frank Cardamone, Managing Director, Waste Wise Environmental

10 Overall Experience